The downstream oil and gas industry is the final step in the process, where the oil and natural gas meet the consumer. The downstream industry includes oil refineries, petrochemical plants, retail gas stations and natural gas distribution companies.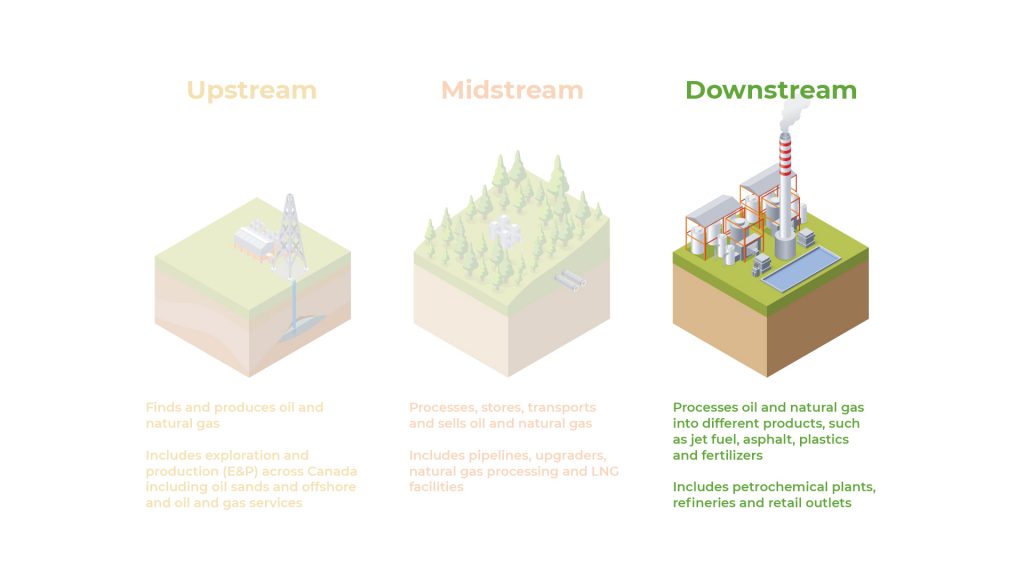 Refineries
Oil extracted from the ground is not generally useful as is; it requires further processing.  A refinery converts oil into products such as gasoline, diesel and aviation fuel, asphalt base, heating crude oil, and kerosene for individual and commercial consumers.
There are over 15 refineries across Canada. Combined the refineries produce almost 111 billion litres of fuel and other refined products each year. Individual refineries can produce anywhere from 12,000 to 300,000 barrels/day. Across Canada refineries employ more than 17,000 workers.
You can find out more about Canadian refineries from the Oil Sands Magazine
Petrochemical plants
Alberta is Canada's leading petrochemical manufacturer – producing plastics, ammonia and urea for fertilizers, fuel additives, methanol, textile fibres, pharmaceuticals and more. The petrochemicals sector accounts for approximately one-third of Alberta's total manufacturing exports and employs over 10,000 people.
You can find out more about Alberta's petrochemical industry on Invest Alberta
Retail gas stations and natural gas distribution
Once gasoline and diesel are produced from the refineries, they're sent to product terminals and then trucked to retail outlets. There are almost 12,000 retail gasoline stations in Canada and 88 brands of gasoline. Over 84,000 people work at the retail sites across Canada.
Once natural gas has been processed, it also gets sent through a network of pipelines and delivered to homes and businesses. Every day the equivalent of 7 million 9 kg barbeque tanks are shipped through pipelines in Canada!
You can find out more about the fuel industry at Canadian Fuels
Page
Upstream
Posted
The upstream part of the industry finds and gets crude oil and natural gas out of the ground – both on and offshore. It includes all the activities in...
Continue reading
Page
Midstream
Posted
The midstream oil and gas industry links upstream activities (getting the oil and gas out of the ground) with the downstream activities (the additiona...
Continue reading
News Item
Experience the Energy - Oil and Gas 101
Posted
Oil and Gas Matters The world uses oil and gas to make energy which allows us to drive cars and trucks, fuel jet planes and heat our homes. It also he...
Continue reading