The upstream part of the industry finds and gets crude oil and natural gas out of the ground – both on and offshore. It includes all the activities in the field, such as shooting seismic, drilling wells, pumping oil, trucking supplies, mining the oil sands and more. It also includes the planning, preparation and execution of field activities, including reclamation. This includes environmental studies, public consultations, engineering plans and more.
There are hundreds of careers in the upstream oil and gas industry – employed in exploration and production (E+P), oil sands, offshore and oil and gas services across Canada. Visit Career Explorer, our career planning tool to find your career!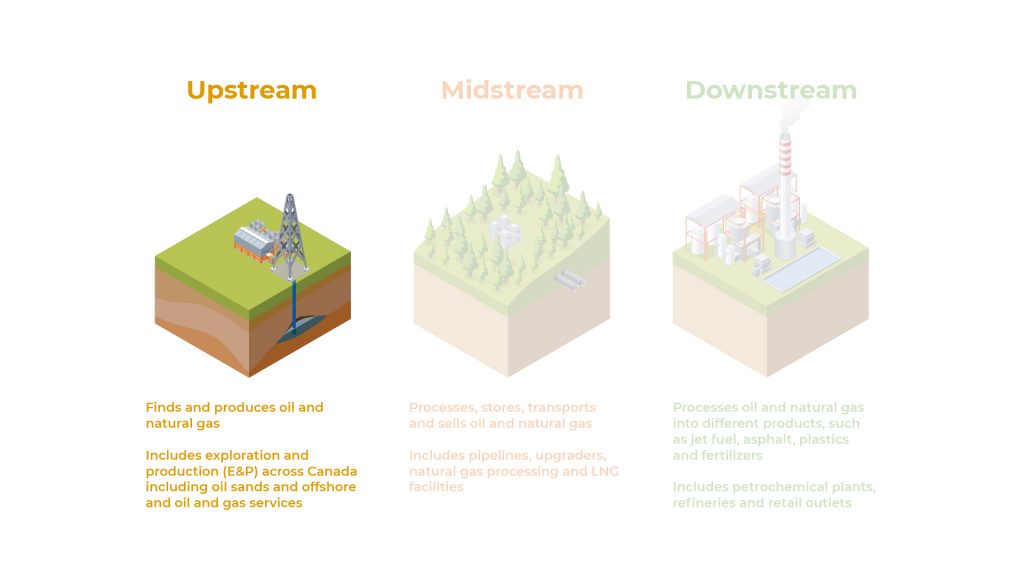 Oil + Gas Exploration and Production
Crude oil and natural gas are found in sedimentary rocks formed over millions of years by the accumulation in sedimentary basins of sand, silt and the remains of plants and animals. Canada has several distinct regions of sedimentary rock and every province and territory includes at least a portion of these sedimentary basins. While the most productive area is the Western Canada Sedimentary Basin, these basins are found on and offshore and require different procedures to produce the oil and natural gas.
The exploration and production (E+P) sub-sector of the industry identifies the underground rock formations that may contain hydrocarbons and negotiates with the owners of the surface and mineral rights to get access to the land for drilling. E+P companies contract drilling and service companies to drill wells and bring discovered oil and natural gas to the surface, economically, safely and in line with environmental regulations. E+P companies in Canada have interests onshore and/or offshore.
New technologies have been developed in recent years to make the production of crude oil and natural gas from hard-to-reach reserves much more viable. The widespread use of horizontal drilling and hydraulic fracturing has unlocked tight crude oil and natural gas from shale and tight reservoirs.
E+P companies employ thousands of workers, from land negotiators to geologists, technologists to administrative assistants, accountants to engineers, safety managers to environmental specialists. Check out Career Explorer, our career planning tool, to find a career that suits you!
Oil Sands
Oil sands are a mixture of sand, water, clay and bitumen (heavy oil). Alberta's oil sands region is home to an estimated 168 billion barrels of crude oil, or about 97% of Canada's total crude oil reserves. The oil sands are found in the Athabasca, Peace River and Cold Lake regions – covering nearly 142,000 square kilometres. The oil sands are too heavy or thick to flow or be pumped without being diluted or heated. At room temperature they act much like cold molasses.
Shallow oil sand deposits (up to 75 metres deep) make up about 20% of the reserves. They are accessed via open pit mining. As a result, heavy equipment operators are needed to operate the shovels that collect the oil sands and drive the enormous oil sands trucks from the mine site to the processing facility.
Close to 80% of oil sands reserves are located too far below the surface for mining. In this case, oil is produced in situ (Latin for "in place"). Wells are drilled using specialized extraction techniques.
Steam Assisted Gravity Drainage (SAGD) uses steam to liquefy the bitumen and then it is pumped to the surface. Directional drilling allows operations to drill more than 20 wells from a single location, reducing the surface disturbance.
The oil sands sub-sector employs many workers – including engineers, technicians, Indigenous relations advisors, procurement coordinators and health and safety advisors. Explore the many careers available in the oil sands through the Career Explorer, our career planning tool.
Offshore
Canada's offshore sub-sector, mainly found in Newfoundland and Labrador and Nova Scotia, operates in one of the world's harshest environments, challenged by ice, wind and waves. Offshore exploration and production occur when crude oil or natural gas fields exist under the sea and includes all related operations and activities. Offshore projects are complex, requiring many specialized vessels to support operations at sea. These include large oil shuttle tankers, floating drilling/production platforms, production storage and offloading vessels, tugboats, drill ships, fireboats and supply vessels and subsea facilities.
Offshore wells can reach thousands of metres below the seafloor. People who work in the offshore industry need all the technical skills used onshore, plus the stamina, balance and enthusiasm needed to succeed in such a unique working environment. The offshore sub-sector includes jobs such as Chief Engineer, Second Engineer, Cadet and Offshore Marine Specialist and is supported by many onshore positions, including those in the areas of engineering, environment, health and safety, finance, procurement and administration. Check out the Career Explorer, our career planning tool, to find a role that suits you.
For lots more offshore information, visit: Newfoundland & Labrador Oil & Gas Industries Association (NOIA)
Oil + Gas Services
Oil and gas services sub-sector provides support services and products to the upstream oil and gas industry during all phases of exploration and production, including drilling, testing, producing, maintaining and reclaiming oil and natural gas wells. Many of the jobs in the services sub-sector are in the field and combine manual work with specialized technology.
Check out the Career Explorer, our career planning tool, to find one that's right for you. The services sub-sector is also the largest sub-sector in the oil and gas industry in terms of employment, employing thousands of workers in areas such as:
Cementing and stimulation services
Drilling and completion tools and services
Drilling fluids and chemical suppliers
Energy environmental services
Equipment and processing manufacturers
Pipe and drill bit manufacturers
Pipe coating and inspection
Pipeline and crude oilfield construction
Production testing
Safety services
Snubbing services
Specialized trucking services
Supply and rental stores
Various supplier/service fabricators, coring, and blowout preventers (BOPs)
Wellsite consultants
Wireline and perforating services
News Item
Exploring LNG in Canada: Upstream, midstream and facility operations
Posted
Earlier this week, we looked at LNG's labour demand requirements for the on-site construction sub-sector. Today, we explore the upstream, midstr...
Continue reading